A walk with B-21 through the years...
1940s 1950s 1960s 1970s 1980s 1990s-Present
1970s

The new warehouse and offices were finished in 1970 at the Tarpon Springs store and shrewd buying and sharp margins resulted in rapidly increasing sales. Spatial constraints from that growth had to be addressed; in 1974, the Tarpon Springs location expanded its store into a 7,500 space while transforming the previous store space into the B-21 Lounge, recalling the Detroit days. Following this expansion of what had become the main store, the sale of the other locations occurred and all efforts and attention were focused on the Tarpon Springs B-21. While attending Tulane University, Bob Sprentall, the son of Mark Jr. and Louise and the third generation of B-21, began his studies of wine in 1978 and joined the store in 1979. Bob's avocation for wine quickly became vocation and within a year he was in charge of all operations.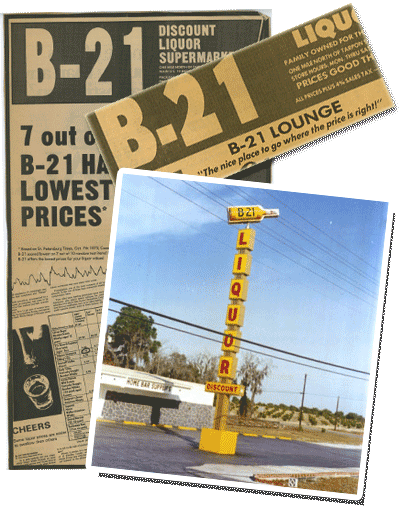 B-21 Liquor Tower was a well recognized
landmark in Tarpon Springs, FL
1971 The Rhone valley village of Gigondas sheds its Cotes-du-Rhone-Village status and receives AOC status from the French government.
1973 Andre Tchelistcheff, major contributor to developing technical skills of American winemaking (nicknamed 'Dean of American Winemakers'), retires from winemaking at Beaulieu Vineyards (BV).
1976 The Wine Spectator is founded and issued in newspaper format.
Vodka overtakes Whisky as the leading spirit consumed in the U.S.
1977 Chateau Montelena (1973 Chardonnay) and Stag's Leap Wine Cellars (1973 Cabernet Sauvignon) of Napa Valley win the Judgment of Paris tasting and catapult American wines into the international spotlight.
1978 Robert Parker releases the first issue of The Wine Advocate.