A walk with B-21 through the years...
1940s 1950s 1960s 1970s 1980s 1990s-Present
Bob Sprentall, third generation of B-21

1980s

By late 1980, with the third generation firmly in charge, wine had become big business and annual sales doubled from 1980 to 1983. B-21's commitment to quality never wavered and the store was on the vanguard, doing things that have today become industry standards -- requiring refrigerated shipping, traveling worldwide to taste, buy and import as well as conducting massive storewide tastings of store exclusives. New marketing techniques were also implemented; in 1983 the first B-21 newsletters were mailed and the store's sales and purchases records had become computerized. By 1985 sales had exceeded $6 million and B-21 became the highest volume wine and spirits store in Florida.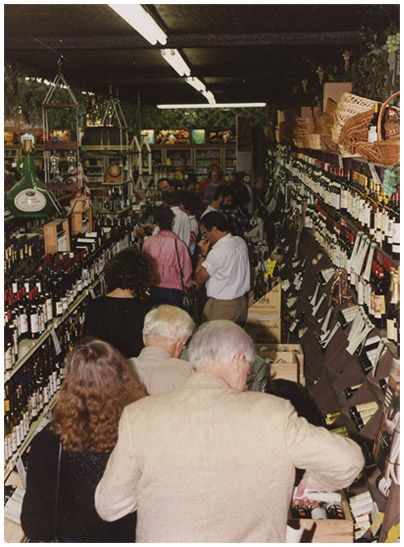 Business Boomed and massive
storewide wine tastings began!
1983 Bordeaux launches a campaign that changed the wine world forever, though we did not know it then. With the help of critic Robert Parker, the 1982 vintage of Bordeaux began in earnest to create demand for the wines to be bought and sold as Futures -- ahead of arrival to secure both price and quantity. Perhaps the fullest manifestation of this market strategy was fully realized and culminated with the 2005 Bordeaux vintage, said to among the best in history (100 points, Rhett Beiletti, B-21).
1986 The Wine Spectator Tasting of 1986 is conducted; featuring the same wines from the 1976 Judgment of Paris, different panelists delivered similar results and Californian wines dominated the top positions 1-5.
1987 "Contains Sulfites" added to wine labels mandatorily in U.S.
1988 The Federal Alcoholic Beverage Labeling Act
of 1988 provides health warnings on wine labels for pregnant women and people who operate cars.