A walk with B-21 through the years...
1940s 1950s 1960s 1970s 1980s 1990s-Present
1990s - Present

The 1990s were a time of of great change, not only of the industry but within the B-21 family. Mom and Pop passed away in the early 1990's. Remarkably, Pop's obituary landed perfectly centered on the back of B-21's newspaper ad in the St. Petersburg Times. Mark Jr. died in 1997 and is asked about by customers to this day. Still more changes were made internally as the store kept expanding and refining to meet the demands of doing more business all the time. In 1991 B-21 was selected as a Top Ten Retailer by Market Watch, The Wine Spectator's publication for the trade. Enhanced facility concerns were major priorities as B-21 presented the website in 1997 to both established customers and prospective customers alike. To compliment the acceleration in business storage space was added, the former lounge space was converted to cold storage and the previously extant storage expanded to 10,000 sq ft.
1997 Robert Mondavi Reserve Chardonnay ranked #1 wine in the Grand European Jury Wine Tasting.
2000 Seagram's alcohol products interests are purchased by Diageo and Pernod Ricard.
2001 The 2000 Bordeaux futures market flames hot and prices soar; the quality is outstanding, the wines classic and not of the precocious variety.
2003 The Australian wine market began to explode on the scene with hundreds of wines and outstanding scores. Robert Parker, Jr. from the Wine Advocate wrote and article entitled, "Australia: The Thunder from Down Under" where he said, "Certainly 2001, 2002, and even 2003 are excellent vintages in South Australia".
2004 A new wave of excitement is created by 2003 Bordeaux and once again the Futures market
frenzies.
Grey Goose is sold to Bacardi for more than $2 billion, only 8 years after being founded.
Robert Mondavi Winery sold for $1.36 billion in cash and assumption of debts.
2006 B-21 hosts an extraordinary dinner with Casanova di Neri and customers get the chance to taste the 2001 Casanova di Neri's Brunello Tenuta Nuova, The Wine Spectator's Wine of the Year.
Again, Bordeaux futures top the charts as a region with the celestial 2005 vintage in the first decade of what may become the Bordeaux century. Rhett Beiletti of B-21 is pictured below in front of Chateau Margaux on one of his many trips to Bordeaux from 2006-2008.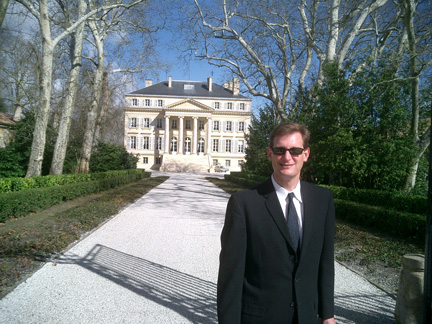 2007 B-21 hosts Katharina Prum of JJ Prum and pours amazing 2005 wines at dinner.
Shannon Sprentall, world traveler in waiting, joins B-21 and the 4th generation begins…
To be continued...